Invisalign® with CEREC in Midtown NYC
---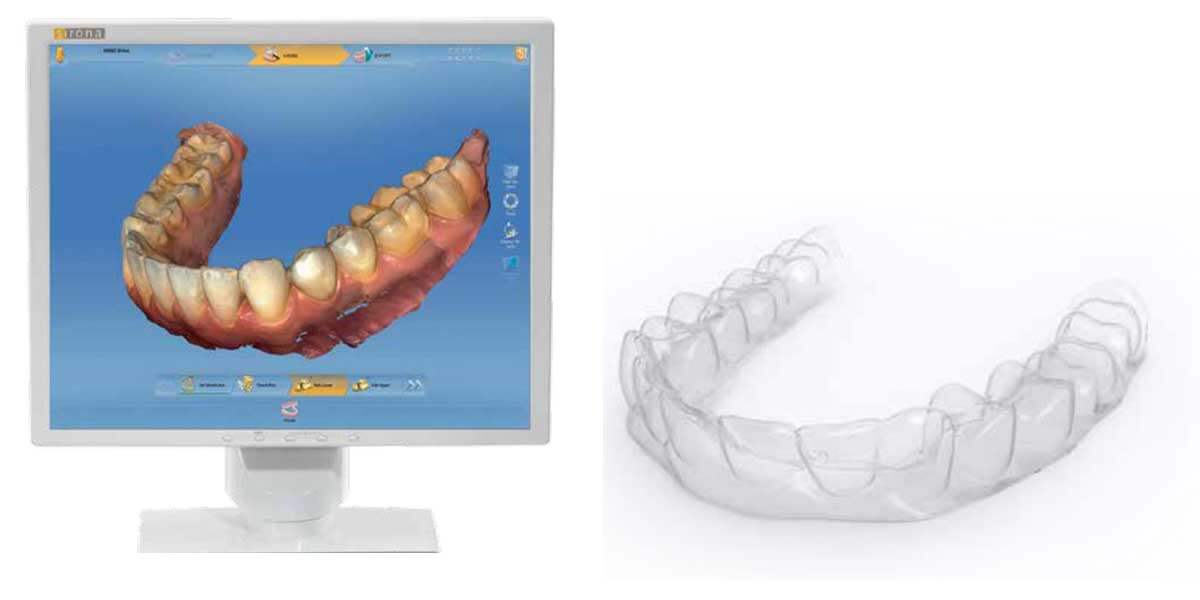 ---
Midtown Dental Care Associates provides Invisalign with CEREC in New York City. Call 212-685-4730 to learn more or schedule your appointment.
For more than a century, metal braces were considered the treatment of choice for straightening teeth. While they remain tremendously popular, many patients and dentists are now turning to Invisalign instead. Billed as "the clear alternative to braces," Invisalign uses clear, smooth, medical-grade aligners to gently shift the teeth into position.
---
What Is Invisalign?
---
Instead of the brackets and wires of traditional braces, Invisalign uses a series of custom-crafted aligners. You will wear each set for 20-22 hours per day for two weeks (or as instructed), and then switch to the next set at home. We will see you for treatment monitoring just once every four to six weeks.
---
3-D Modeling
---
The first step in Invisalign treatment is to create a 3-D digital model of your existing smile. We will then morph the model to show you what to expect at each stage of treatment and, when you are happy with the model, we will use it to create your customized aligners.
---
Aesthetics and Comfort
---
It's not fun to think about, but first impressions make a huge impact. Many people are uncomfortable about job interviews, dating, client meetings, and even being photographed with metal braces. Virtually invisible Invisalign lets you smile and laugh without worry.
In addition, metal braces tend to poke and scratch the inside of the mouth and the tongue. Invisalign has no sharp edges to irritate your mouth. Having braces adjusted can be frankly painful, while Invisalign's series of aligners is gentle and pain-free.
---
Daily Life
---
With braces, most things are under your dentist's control. We place them, adjust them, and remove them. If you pop a wire or loosen a bracket, you must see us for an emergency visit. There are some foods you cannot eat, and you must learn a whole new way of caring for your teeth.
Invisalign is under your control. We will place attachments on your teeth and teach you how to care for your aligners. Then it is up to you. We will monitor your progress, but you will be responsible for wearing and changing your aligners as directed. You can remove them to eat the foods you like and to brush and floss your teeth as normal.
---
Cost Considerations
---
It is true that at one time, Invisalign was significantly more expensive than braces, but that is starting to change. Invisalign uses a transparent pricing model that includes all aligners and dentist visits. When considering the cost of braces, be sure to factor in any upgrades such as colored metal, as well as the price of adjustments and emergency visits.
Dental insurance is complicated and varies widely between policies. Some insurers cover both braces and Invisalign. Some cover only one or the other, and some cover neither. Our office staff will review your policy and help you understand your out of pocket costs for both options.
---
The CEREC Advantage
---
CEREC stands for either CERamic REConstruction or Chairside Economical Restoration of Esthetic Ceramics, depending on who you ask. Either way, it is generally used to create same day crowns. However, using CEREC technology, we can simplify the process of creating your aligners while providing you with a far better experience. There are no uncomfortable trays or goopy impressions. Instead, digital impressions are fed directly to our software, vastly improving the Invisalign process.
Call 212-685-4730 to schedule your appointment.
---